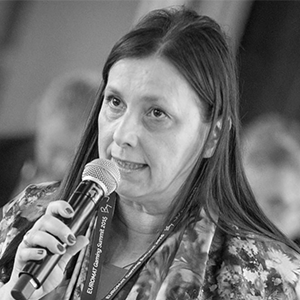 President, JAKTA
Mirjana Acimovic is the President of the first Serbian representative association of gaming industry JAKTA and also Chairman of the Board of Sector for games of chance in Serbian Association of Employers. She is co founder and educator in the Youth Center for Prevention and Treatment for Youth Problem Gambling and Gaming. Ms. Acimovic is advisor and consultant for gambling industry and CSR for Southeast-European countries and has immense knowledge and over 20 years of experience in the Gaming sector. She is an independent appraiser for the casino business in Balkan and advisor to Serbian Association Independent Appraisers and banks for market analysis and valuation of casinos in Serbia, Bosnia and Herzegovina, Croatia and Slovenia.
She held the position of Treasurer and Chair of EUROMAT's Social Responsibility in Gaming Committee. As a follow up to this work, in Barcelona 2016, she become Chair of the High Level Expert Group on Social Responsibility in Gaming, with the mandate to examine best practice across companies in Europe and set out some workable principles that the industry can use as a frame of reference when looking to improve social responsibility.
Prior to entering the gaming market Ms Acimovic held several board positions as a CEO in the trading and marketing business, in both privately-held and publicly listed companies. In cooperation and support of the Ministries of Finance of the ex Yugoslav Countries and its industry representatives, Ms. Acimovic organized eight expert conferences in the field of gambling industry. She was a member of Working Group for drafting the bylaws of the Serbian Law of Games of Chance.
Ms. Mirjana Acimovic is author of professional studies for the purpose of improving regulation and gambling markets and numerous projects regarding responsible gambling and protection of children and youth from problematic and pathological gambling and gaming. Since 2015 she is engaged in implementing the government accredited program from Serbian Institute for the Improvement of Education.
She graduated dramaturgy at the Belgrade University of Arts and she is fluent in English, Russian and can also speak French.