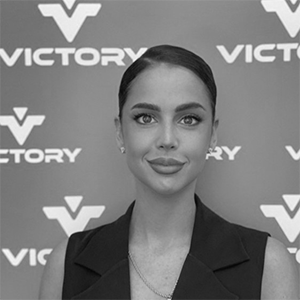 Selena Ševković is an HR Manager of Victory 247. In her role, she provides full HR management, planning, organizing, and overseeing all activities in the human resources department. This includes policy and procedure development, performance management, employee relations, benefits administration. Selena was introduced to the betting industry through Betagy where she held the position of an HR recruiter. There, she assisted candidates at all levels with their move into this industry.
Prior to joining the betting industry, Selena worked in the sales and aviation industry where she obtained a wide range of skills such as leadership, customer experience, conflict management, time management, and organisation skills as well as brand presentation skills.
The dynamic environment in a startup company allowed her to quickly learn and adapt to the ever-changing needs which are shifted quite swiftly according to newly formed situations.
She acquired a BA at the University of Belgrade Faculty of Philosophy.